HelloTask: Building Bangladesh's first on-demand domestic helper service /



HelloTask is one of the successful enterprises to avail support from the B-Briddhi programme's Impact Ready Matching Fund (IRMF) scheme. This is an innovative approach to trigger investments into early-stage enterprises while incentivizing the entrepreneurs like HelloTask to stay true to their social mission. How is HelloTask becoming the full-stack platform working towards establishing the profession of domestic workers as dignified work?
HelloTask's Traction Story
For many Bangladeshi households, there remains a genuine need for domestic helpers, and the number of such families is set to rise, given the demographic and social trends indicating growth and stability. After personally experiencing the dire need for consistent and well-trained house helpers, Mahmudul Hasan Likhon, co-founder and CEO of HelloTask, along with his brother, initiated the idea of an on-demand domestic help service provider where verified and skilled domestic helpers are connected with customers through app and website.
HelloTask's vision is to build an ecosystem where every family employs trained, skilled, and verified domestic helpers, with an aim to provide a secure workplace for millions while also establishing 'domestic work' as a dignified profession. 
The domestic help provider and caregiver industry of Bangladesh is estimated to be worth an overwhelming USD 4 billion which remains largely unregulated and informal. For a long time, the rights of domestic helpers had remained under the radar, resulting in their exploitation in terms of work hours and wage rate. At HelloTask, the team works relentlessly to build a fair marketplace platform to connect domestic help seekers with helpers and caregivers, all the while ensuring they are rightfully paid for the hours they work. In just 3 years, HelloTask has been able to generate a GMV of a total of US$ 150,000, with 50,000+ users ordering service through their mobile app. Presently, they have an Annual Recurring Revenue of US$1 Million, and the platform is also working in collaboration with development organizations to formalize the care economy and provide training to upgrade the skills of the domestic helpers.
Unlike most companies that put user experience on top of their priority, HelloTask works to ensure both user and worker experience simultaneously. To make sure the users are receiving quality service, the front line of service providers receive hands-on training to improve their skills measured in three levels: primary, advanced, and caregiver. HelloTask is working in collaboration with BRAC, OXFAM and World Bank to provide training to domestic helpers. HelloTask has developed a training module for domestic workers under the Project 'Securing Rights of Women Domestic Workers in Bangladesh' – supported by OXFAM. Under this project workers enlisted in the platform receive both training and certification from National Skill Development Authority.
The RMG industry of Bangladesh currently employs nearly 5 million workers. This industry has been brought under a structure owing to the demand generated overseas. Thus, the workers in this industry get the benefit of a well-structured workplace. HelloTask's impact lies in the creation of that structure in the domestic help industry of Bangladesh, allowing women choosing this profession to undergo properly designed training, and eventually, find employment opportunities. This creates an impact on the lifestyle and earnings of women from a certain demographic background, who would otherwise get exploited or have to struggle to choose domestic help as their profession.
Currently, HelloTask operates similarly to the Uber platform, but for domestic help providers. Service seekers get the option to choose an instant service provider who will be available in an hour's time, or hire someone on a subscription basis. Upon arrival, the service provider undergoes a simple procedure of scanning their ID cards using the 'Porichoy' app, after which they can begin their work.
At the moment, HelloTask has 2000+ active female domestic workers enlisted in their platform, of which 2% identify themselves as disabled.
In an attempt to ensure their safety, elaborate steps are taken by HelloTask, and so far, there have been no cases of severe harassment. The workers are advised to call 999 or reach out to the team through an SOS number provided in the app in case they feel threatened or harassed.
Working towards digitizing an unstructured industry that employs workers who are not considered under the labour law, brings forth complex challenges. During initiation, it took the team over eight months to build a sustainable and scalable business model, which equalized the demand and supply for domestic service providers. Most service providers do not own a smartphone, which stands as an obstacle during the operation of HelloTask. To address that, HelloTask has recently developed a computer-automated system of connecting on-demand service providers to service seekers in real-time, without the dependency on smartphones. This has enabled a large number of workers all over Bangladesh – who were previously excluded because of manual operation limitations – to leverage the maximum usage of their existing device The team also ensures full financial inclusion for the enlisted domestic service providers by making their platform fully based on cashless transactions. Service seekers pay using bKash or bank transfer, which is then transferred to the service provider's Nagad account.
Opportunities and Challenges
HelloTask thrives on a strong brand image built on the foundations of its first-mover's advantage in the market.
It is the first platform in Bangladesh that connects domestic service providers and seekers using technology, and takes measures to formally bring domestic workers under the umbrella of financial inclusion. 
In addition, HelloTask's team works efficiently to ensure proper service quality control and consistency. The team is also working towards prominently establishing the caregiver industry in Bangladesh through proper training of the workforce. HelloTask has partnerships with development organizations such as BRAC and OXFAM to train 16,000+ domestic helpers and provide them with job placement through HelloTask by 2023.
Over the last 3 years, HelloTask received requests for domestic helpers worth over US$ 600,000 but was able to deliver only 1/4th of the amount. HelloTask's highest one-day delivery of work has been 115 so far because of reliance on manual operating systems. With their recent technological upgrade, they are hoping to connect a much greater number of domestic helpers to the seekers in real-time, thus expanding the horizon of their opportunity countrywide.
As the country grapples to stay afloat amidst the new wave of COVID-19, lockdowns become frequent and necessary to impose, and so does the need for a reliable helping hand at home. This gives HelloTask an opportunity to make a prominent mark as they continue innovating every day to increase the efficacy of their work. In August 2021, HelloTask plans on introducing new offers and building on the opportunity to sell baby and elderly caregiving services.
However, the competitive landscape of HelloTask stands as a challenge. The concept of informally getting a domestic helper using local maid agencies is still prevalent in Bangladesh. Changing that mentality and instilling new ways to do the same thing remains an ongoing challenge. Other formal platforms have now come up too such as Sheba.xyz, HandyMama, Appointme, and Amar Astha who are providing similar services in the market.
Investments
HelloTask estimates that every household earning at least BDT 25,000 monthly tends to appoint a domestic helper to help with everyday house chores. Based on this estimation, the business scope of HelloTask is seen to be broad in a country of over 166 million people.
HelloTask has been able to raise US$ 420,000 in forms of equity, SAFE and grants from Startup Bangladesh, Accelerating Asia, BD Ventures, OXFAM, and Biniyog Briddhi. 
Through B-Briddhi programme's Impact Ready Matching Fund scheme, the enterprise has an opportunity to raise up to US$ 100,000 as a non-repayable investment.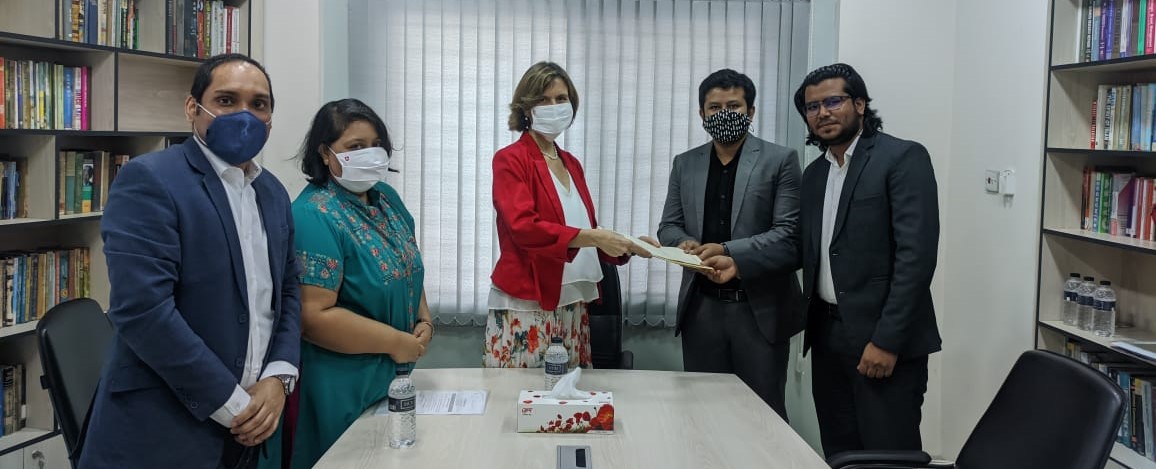 Picture: HelloTask signing the IRMF investment agreement with Biniyog Briddhi in March 2021
B-Briddhi's Catalytic Funding Support
HelloTask's far-reaching scope of business has the ability to positively affect the lives of many underprivileged women, who struggle every day to earn their bread and butter, and eventually lay a greater impact in terms of improvement of livelihoods.
Biniyog Briddhi's catalytic funding program aims to help HelloTask transition into a properly groomed impact oriented organization, with the ability to accurately measure impact metrics.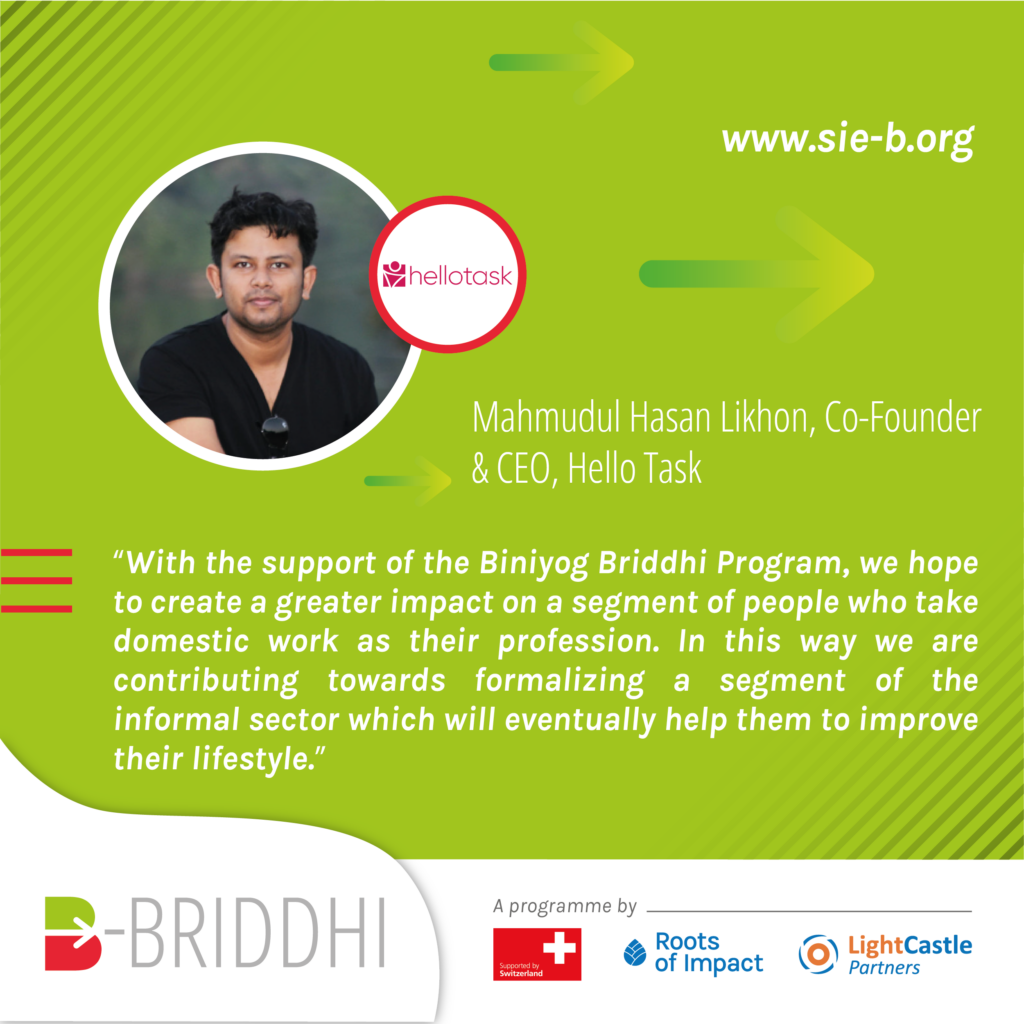 Among HelloTask's impact-based KPIs are the increase in earnings of the domestic workers, the improvement level and diversity brought into the skills they possess, and the number of work they are getting. As a result of improved skills, their rating increase which allows them to get more work and earn more. The rating works two ways, with workers getting the opportunity to rate their experience as well. This helps create a positive impact by giving the workers a sense of judgement and a voice that counts.
In addition, HelloTask's properly designed training modules also help create an opaque path for transition from the advanced level to the caregiver level. Currently, the workers are earning 1.5 times more on the hourly rate, which can increase up to 3 times as they advance to the caregiver level.
It is possible to create a massive impact as a startup if the impact angle is integrated into the business model. By designing training modules of domestic helpers, and forming strategic partnerships with development organizations interested in transforming the industry, it is possible to create employment opportunities for a large mass of people who would otherwise have been a part of the informal economy. By ensuring the supply of qualified domestic workers meets the demand that is, currently, coming in large numbers, it is possible to contribute towards inclusive growth in the economy.
Way Forward
Looking ahead, HelloTask reflects on their learnings over the past 3 years and gears up to bring structure to the caregiver industry of Bangladesh. Not only will it empower workers in this industry, who are mainly women, but it will also provide them with a stable earning source and a profession they are proud of. Their goal is to build a platform that would improve the lives of domestic workers and maids and at the same time take the trouble out of finding a domestic worker who is consistent and skilled.