Apon Wellbeing: Affordable Goods and Services for the Industrial Workers in Bangladesh



Apon Wellbeing is one of the successful enterprises to receive Social Impact Incentives (SIINC) from the B-Briddhi programme. Through this partnership, Apon will benefit from financial incentives for achieving its impact goals in a scalable manner. How is Apon Wellbeing, an omnichannel marketplace, creating an impact for marginalized people working in large factories in Bangladesh?

Apon Wellbeing's Traction Story
The ready-made garment industry accounts for more than 80% of the export income in Bangladesh, with more than four million people working toward the success of this industry. Apon Wellbeing was established in 2017 to create a difference for these mass underprivileged RMG workers, who make low wages that typically leave them with meagre disposable income. Founded by Saif Rashid, Apon Wellbeing focuses on enhancing the lives of factory workers by providing goods and services at affordable and fair prices, thus enabling more disposable income for savings.
Apon Wellbeing's objective is to ensure access to the health and wellbeing of the workers by developing a sustainable platform in partnership with factories, consumer goods manufacturers and different service providers in Bangladesh and Asia.
Despite working full time, the majority of factory workers are living in poverty as their real wage is three times lower than the average living wage. Apon aims to increase the real income of these workers (especially RMG) by setting up commissaries on the RMG factory premises, where they offer groceries and health nutrition products at reduced prices, which are 10% less than the retail prices. Apart from providing low-cost everyday items, Apon ensures the financial inclusion of the workers through the provision of interest-free credit facilities and health insurance benefits. The workers get enrolled on health insurance once they buy a certain amount of goods from the shop every month. Workers receive the benefit of free health and life insurance with a coverage of around USD 200 per worker per year. Apon's scheme for financial inclusion has enabled the workers' access to free health insurance, and this has changed their behaviour towards getting basic health checks, which in turn has improved their attendance to work and hence income (as these workers receive daily wages).
The Apon business model reduces the monthly expenditures of workers and enables a change in the behaviour of these workers towards their health, nutrition and financial inclusion. Therefore, the platform operates exclusively at the factory premises and provides privilege cards to the workers for availing discounts and low-cost health services. The model is adding further necessary elements to ensure the 360-degree well-being of the workers by leveraging the purchasing power of the bottom-of-the-pyramid consumers. The lower prices are ensured through negotiations for fair rates with traders and suppliers. Apon believes in forming the right partnerships with traders, insurance companies and factory owners to enable the right solutions and incentives for the millions of workers at a low cost.
The platform has taken the initiative to change the industry working space by ensuring good health and wealth of the workers by increasing their savings.

The Apon shops empower workers, especially females, to have the choice of purchasing quality goods at affordable prices. Furthermore, the platform ensures good healthcare services through health and life insurance facilities and access to finances. Through the hands of Apon Wellbeing, more than 70,000 workers are getting access to discounted goods and financial facilities, where 44 percent of the workers are females. The platform has impacted the worker community through its 16 discounted shops in different factories and has generated a total savings of more than USD 13,000 so far while providing insurance coverage to 9 percent of their customer base.
Through its social business to impact the quality of life for factory workers, Apon Wellbeing has received recognition among the industry giants and has won the Tommy Hilfiger Fashion Frontier challenge in 2019 and Inclusion Plus Bangladesh along with receiving grants at the 2020 Dubai Expo.
Opportunities and Challenges
While impacting the lives of factory workers through its affordable goods and services, the platform faces a multitude of challenges in running its activities throughout the ecosystem. Challenges inherent in the social construct make it difficult to penetrate the customer base equitably. It is difficult to convince female customers to purchase essentials from the shop and acquire the financial benefits due to gender norms set by the wider society, where the male counterparts are expected to make decisions and run the household activities such as shopping for essentials. Furthermore, it is difficult to convince the workers to subscribe to the insurance facilities as they prefer to avail more discounts on goods than subscribe to insurance. The platform overcomes such social and behavioural disablers through continuous awareness among the worker communities.
Despite the challenges, Apon Wellbeing has opportunities in creating more impact through its financial inclusion schemes where it provides facilities in accessing finance through services such as money transactions, savings facilities and money remittance services. Providing further financial services will enable the workers to access better financing facilities as it is difficult for them to visit banks during working hours. Moreover, Apon is expanding its offers in financial services in response to customers' requests, including fund transfer services for transferring money to their families in the villages.
By leveraging the opportunities and overcoming the challenges, Apon Wellbeing aims to provide services in more factories, reaching workers from different sectors such as the leather and ceramics industry, while parallelly continuing to deepen their impact in improving the financial and physical well-being of their customers in a holistic manner.
Investments
Apon Wellbeing has raised funding through multiple grants, prizes and non-repayable investments. Among these, notable investments include prize money of 75,000 euros from the Tommy Hilfiger Fashion Frontier Challenge and a grant of USD 100,000 at the 2020 Dubai Expo. With the support of SIINC, Apon will be in a much better position to raise additional investments and scale its business. This is due to the fact that the SIINC payments will act as an additional revenue stream for the company, which makes an investment in Apon even more attractive for potential investors.
Apon Wellbeing has been able to raise over USD 500,000 in the form of awards and grants from multiple platforms, foundations and investors.
As a Social Impact Incentives candidate, Apon Wellbeing has identified three impact metrics that align its impact and business growth strategies. These metrics include i) an increase in average savings of their customers, ii) an increase in health insurance coverage, and iii) an increase in the percentage of female customers Dependent on their impact performance on these three impact metrics, Apon Wellbeing will be able to receive up to $225,000 over the next two years from Biniyog Briddhi.
With SIINC, Apon Wellbeing will be able to better address the tension between their commercial and impact model, while at the same time receiving more traction from investors and accelerating the sustainable growth matrix to bolster the objectives of the business.
B-Briddhi's Catalytic Funding Support
Apon Wellbeing's initiatives can positively affect the lives of many underprivileged workers, especially women, and provide a greater impact on their livelihoods through the successful achievement of good health and well-being, gender equality, and economic growth.
Biniyog Briddhi's catalytic funding program aims to support impact enterprises like Apon Wellbeing with the right measures and capital to scale their impact while achieving financial sustainability.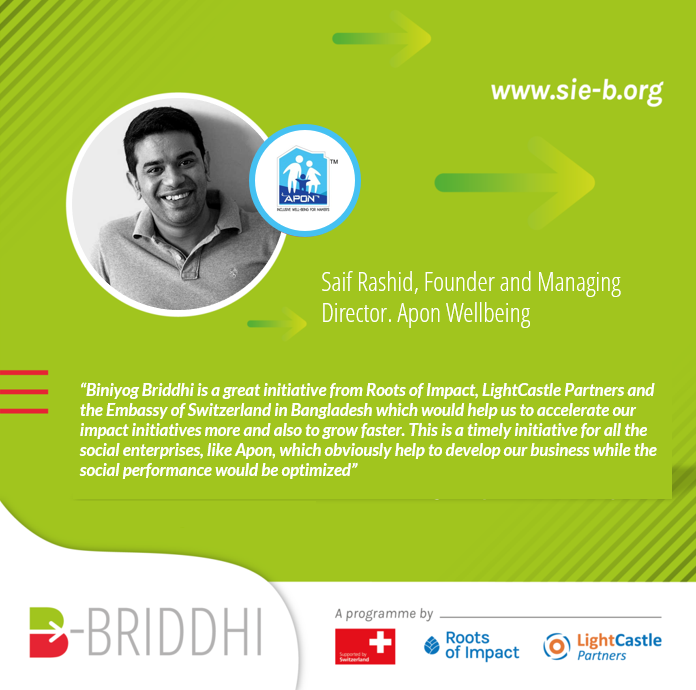 Way Forward
Apon Wellbeing reflects its achievements and learnings from the past 4 years and looks forward to enabling better and wider facilities to improve the lives of its beneficiaries. The platform aims to focus its business model through further impacts on the wider community and establish more than 500 shops with the current retail model, especially in the EPZ areas. In future, Apon targets more customer penetration, aiming to cover 150,000 customers. In terms of its horizontal expansion, the platform aims to develop apps and its ERP system where workers outside the designated factories can avail the facilities as well. Moreover, the platform looks forward to expanding the health insurance facilities for the workers' families.
With an ambition to enable good health and wealth for the workers in Bangladesh and Asia, Apon Wellbeing looks forward to B-Briddhi's Catalytic Funding which can assist it in paving the way towards scaling.