How to Master Your Gender Lens Lingo

Through Innovative F

inance and IMM /



Do you think you understand what gender lens investing (and gender inclusion more broadly) is all about? In this blog, we recap two recent events that allow you to dive deeper into B-Briddhi's focus on gender inclusion through the usage of both Innovative Finance and Impact Measurement and Management (IMM) tools. But beware: We aim to demystify the topic to create more awareness among ecosystem players about the importance of amplifying and measuring gender impact.

Women as customers and entrepreneurs: why they matter so much
In Bangladesh, women face formidable barriers to participating in the local economy. While the country has made positive strides to include more women in entrepreneurial activities recently, their involvement is limited by obstacles, ranging from the difficulty of obtaining startup capital to the lack of formal support and connections needed to pursue successful business activities. As customers, women also tend to be underserved compared to their male counterparts, partially because female entrepreneurs are more likely to create products and services uniquely tailored to meet their needs. 
These obstacles limit the potential for impact enterprises to tap into the increasingly important female customer segment. To illustrate this point, a Boston Consulting Group forecast shows that women will control 75% of global discretionary spending by 2028. According to their analysis, women add approximately US$5 trillion to the wealth pool annually, a figure expected to accelerate and outpace global wealth growth over the next several years. Importantly, Asia (excluding Japan) also happens to be the fastest-growing region for female wealth creation globally!  
Women add approximately US$5 trillion to the wealth pool annually, a figure expected to accelerate and outpace global wealth growth over the next several years.
What IMM and Innovative Finance can do
In two separate events hosted in late September, the B-Briddhi programme shed light on the importance and relevance of serving this growing customer segment through the usage of IMM and Innovative Finance. The first event held online on September 19th, discussed how entrepreneurs can better serve female customers through product or service design by collecting gender-disaggregated data to understand their specific needs. The second event, held in Dhaka on September 29th, approached the topic from the angle of gender-lens investing (GLI). With GLI gaining increased popularity among impact investors globally, the event served to demystify different GLI approaches for Bangladesh investors to better meet the needs of women-led enterprises, as well as enterprises serving female customers.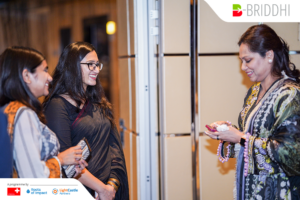 Curious?

Are you interested in diving deeper and expanding your vocabulary on the topic of gender inclusion and Gender Lens Investing? Then check out our two knowledge pieces below. You can also watch the recordings from both events in our B-Briddhi playlist, as well as read our latest gender-specific addition to the IMM Toolkit. Become smart(er) in measuring gender inclusion now!